This is a follow up on our article advocating a change in Arkansas law to prohibit legislators from working for registered lobbyists. After all, legislators are even prohibited from soliciting a loan from a lobbyist.
We cited Representative James Sturch as an example of a legislator who worked for a registered lobbyist while being a legislator. You can read the article here – [Working For A Lobbyist While Being a Legislator?]
Representative James Sturch responded on Facebook with this: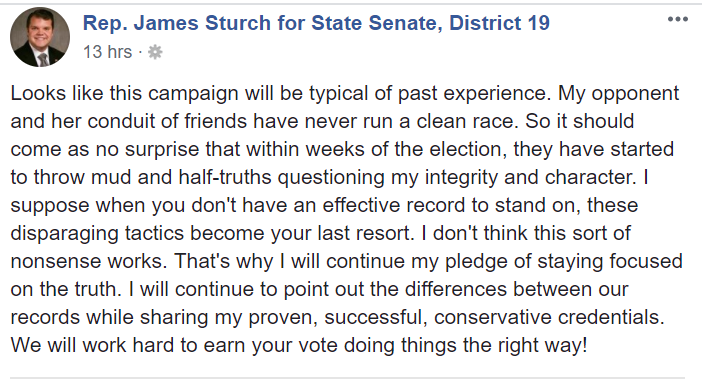 First and foremost, what Sturch posted is not a response – it is a diversion. Sturch never says it is not true he worked for a lobbyist. That would be hard to do since it is a matter of public record. Don't you deserve something better than double speak from your Representative?
Second, he says: "My opponent and her conduit of friends have never run a clean race." Mr. Sturch, your wild claim is "mudslinging." Mr. Sturch, we challenge you to give the voters an example where State Senator Linda Collins-Smith ever did anything other than run a clean race.  And how about an example concerning "conduit's" statements.
Third, he says the article is throwing "mud." How can it be "mud" when the assertion about you working for a lobbyist is true?
Fourth, he say the article is using "half-truths questioning my integrity and character." Please point out anything in the article that is a half-truth.
By the way, the article does not question Sturch's "integrity and character" when it points out he worked for a lobbyist. We acknowledged that is legal, but we think the law needs to be changed to prohibit what Sturch did. What we question is his "judgment" on working for a lobbyist when he should have known it would bring his votes into question.
Fifth, Sturch says he will continue his "pledge of staying focused on the truth." Great! He can start by acknowledging that as a legislator he was employed by a guy who was a registered lobbyist and both business are registered at the same address way over in DeQueen.
Sixth, Sturch says, "I will continue to point out the differences between our records while sharing my proven, successful, conservative credentials. We will work hard to earn your vote doing things the right way!" Sounds like he would like the voters to see a comparison of his voting record to his opponent's. His record is poor. You can see for yourself. CFA posted votes of ALL legislators at https://conduitforaction.org/how-did-my-arkansas-legislator-vote/
The story that Sturch worked for a lobbyist while being a legislator is not something that came up because of CFA.  It came up late in his re-election campaign in 2016 and it is something radio personality Paul Harrell discussed on his show before Sturch even became a candidate this time.
Since Sturch accused the CFA telling "half-truths" we are posting the documents so you can see for yourself. Click on the following to view each document:
BASED ON THE DOCUMENTS, LET'S COMPARE STURCH'S EMPLOYER (2014 THROUGH 2016) TO THE LOBBYING FIRM.
STURCH'S EMPLOYER:
Company name: Legacy Holdings & Properties LLC .
Located at: 314 West Gilson Avenue, DeQueen, AR.
Chief officer of company: C. Chadwick Gallagher
LOBBYING FIRM:
Lobbyist firm name: Legacy Consulting
Located at: 314 West Gilson Avenue, DeQueen, AR.
Firm contact: Chad Gallagher
Registered lobbyist at firm: Chadwick Gallagher 
Now, back to our original point …
Tell your legislators to change the law to prohibit a legislator from working for a lobbyist.