Scare Tactics: Don't Be Kansas!
Incoming Senate President Pro Tempore, Jim Hendren (the Governor's nephew) bragged on the work of his tax task force which is proposing a reduction in the top income tax rate. In explaining why the proposed tax cuts are not larger, Hendren told Talk Business and Politics the task force was very aware of the budget problems that occurred both in Kansas and Oklahoma when they adopted large tax cuts.[i] Afterward those states experienced budget problems.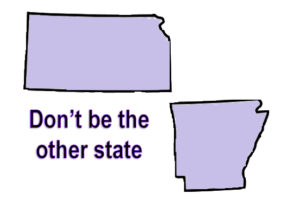 Why is Hendren pointing to two states that tried such huge tax cuts? No one in Arkansas is talking about similar deep cuts.
"Don't be Kansas" is a diversion to take away attention from the real issue. Every two years the Arkansas legislature passes some tax cut, but before the legislative session is over manages to pass new taxes or broadens the application of existing taxes, so that Arkansas aways remains one of the worst tax states in the nation.
By citing the extreme cuts tried in Kansas and Oklahoma, Senator Hendren also diverts attention from the fact that Arkansas government costs more per person than state government does in most states.[ii]
In working toward lower taxes, we don't need to be Kansas and we don't even need to talk about cuts in services. Much could be accomplished just by avoiding wasteful spending. Over the last few years we have seen millions of dollars spent on computer systems that didn't work and which ended up costing twice as much. We have seen the Governor insist on awarding a huge contract to the highest bidder. We have seen an increase in discretionary spending, and an increase in giving away money to corporations. The Governor even gave away tax money to private colleges. Bad enough giving away money to a private college, but one college was also a financially mismanaged college. Why are we giving the Governor so many millions of dollars to pick winners and losers in business when most Arkansas businesses and families struggle to pay the already high cost of Arkansas's bloated government?
The legislature has been unwilling to systematically evaluate state programs for performance. Special interests do not want that to happen!  If the legislature fails to do the work to evaluate spending, then we will continue to get little more than tax shifting from one tax to another and continued high tax burdens for Arkansans.
Using the mantra "Don't be Kansas," is a way to avoid discussing how to reverse Arkansas' downward spiral to being the 46th worst tax state in the nation.[iii]
Even after Kansas restored some taxes to raise revenues, Kansas' tax structure is still far superior to Arkansas'. Kansas is 28th in the nation. Oklahoma ranks as the 26th best tax state.[iv] (The people of Kansas and Oklahoma are probably looking at Arkansas and saying "DON'T BE ARKANSAS.")
Arkansas isn't even moving in the right direction, having gone from 43rd to 46th worst tax state in the nation.
Instead of using liberal scare tactics to keep Arkansas a high tax state, Arkansas politicians should have used the past year of tax studies to come up with a plan on how to at least move the needle the other way – towards a lower overall tax burden and away from excessive spending.
By the way, Senator Hendren didn't mention the tax increases already being discussedfor highways that would wipe out all the tax relief provided from an income tax rate change and that would actually increase your overall tax burden, plus a tax on your out-of-state internet purchases.
Are you tired of Arkansas cutting one tax just to raise another or broadening another so that Arkansas government keeps taking more of your money?
One thing is certain… if you stay silent and you allow the tax shifting game to continue, heavier tax burdens ARE on the way.
Courtesy of Conduit For Action
---
[i] https://talkbusiness.net/2018/11/tax-cut-task-force-leader-looking-to-avert-kansas-oklahoma-like-budget-disaster/
[ii] Arkansas government was ranked as the 13th highest cost per person for the year 2016.  See discussion in: https://www.conduitforaction.org/arkansas-tax-and-spend-fantasy-world/
[iii] https://www.conduitforaction.org/arkansas-taxes-on-road-to-becoming-the-worst-in-country/
[iv] Ranking by the Tax Foundation